Audemars Piguet Rose Gold Watches
Find the best collection of AP Rose gold for sale in Luxury Watches USA.
---
Shop AP Rose Gold by Model
AP Rose Gold Price
The cost of an Audemars Piguet Rose Gold in our collection goes from USD $30,000 to USD $210,000, depending on the model, year and condition of the timepiece.
Shop online with free overnight shipping, or make an appointment to visit our showroom located at The Diamond District in New York City.
---
< Shop All Audemars Piguet
---
Audemars Piguet Pink Gold History
Although one of the great successes of Audemars Piguet is the conception of a sporty and outstanding watch with a material such as steel, such as Royal Oak, it is true that each watchmaker also opts for the luxury that rose gold represents. , so it has various collections where this material gives the touch of elegance that distinguishes the brand.
Among the iconic materials of the watchmaking house are steel, however, they also have designs made in white gold and rose gold, for the latter, there are five collections that stand out.
Royal Oak Concept Rose Gold
This collection dates back to 2002, when Audemars Piguet decided to experiment, thus creating a unique micromechanical technique characteristic of the Royal Oak Concept collection, recalling the aesthetics of the original Royal Oak, but with a touch of modernity with refined finishes and the highest technology.
In this collection we can find the Royal Oak Concept Frosted Gold Tourbillon Volante with rose gold details, and the Royal Oak Concept Tourbillon, two models that will undoubtedly make you stand out at any event.
The Frosted Gold model, quite coveted among watch lovers, can be found in the market for prices above USD 150,000, while the Concept Tourbillon model can exceed USD 200,000, without a doubt. models that would be the envy of any collector.
[Re] Master 01 Rose Gold
This collection, made up of a single watch, is made up of an automatic chronograph model, with a two-color aesthetic, combining stainless steel, the house's trademark, with 18-carat pink gold, undoubtedly the reinvention of a model that dates back to from 1943.
This classic, some say, maintains a mark of 4/5 on minute 15 of the counter due to an express request from Jacques-Louis Audemars, since being passionate about football, he wanted to be able to keep the exact time that lasts each half of a encounter with this chronograph.
This classic, which has been part of important auctions, reached the figure in 2015 of 305 thousand Swiss francs, a little more than USD 300,000, being acquired by the Le Brassus firm.
Jules Audemars Pink Gold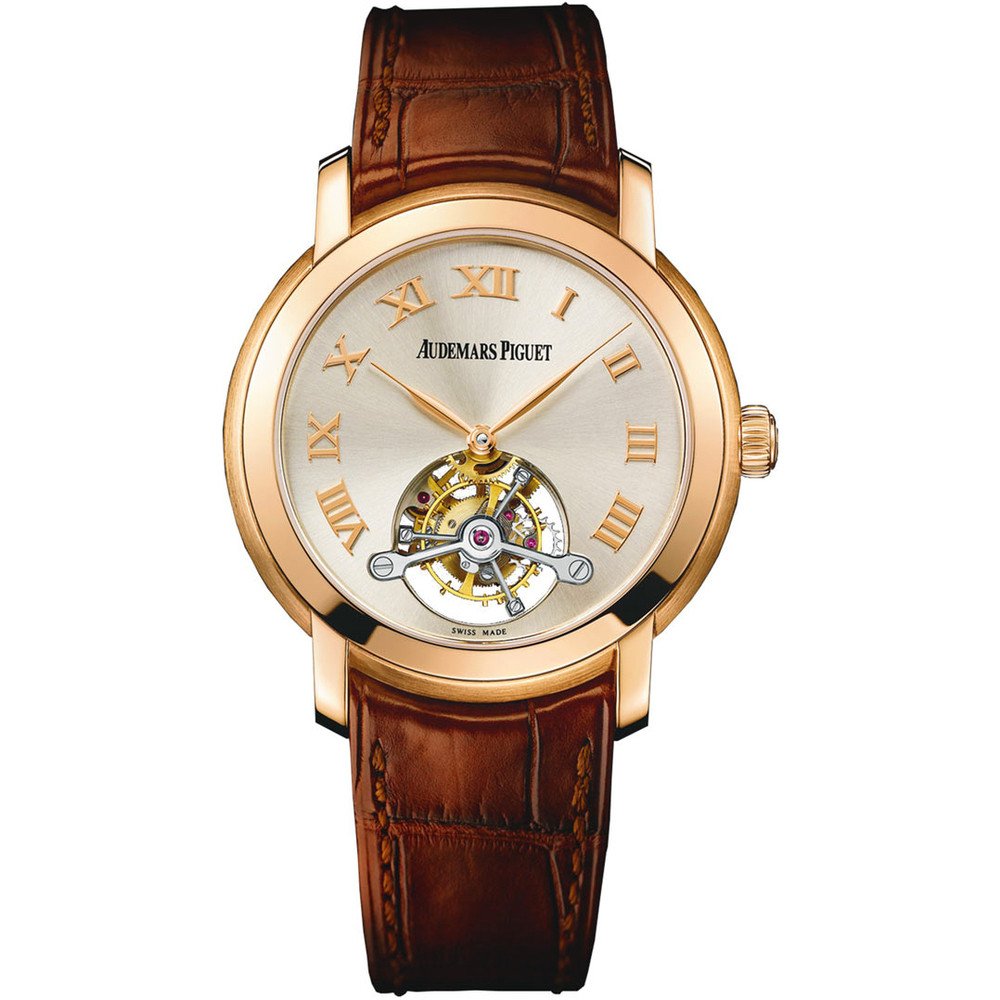 With rose gold, a collection was created in this case in honor of one of the two founders of the Audemars Piguet manufacture, Jules Audemars, this line being the one with the finest finish by the watchmaking house.
This is perhaps one of the most extensive collections, as it has 96 models, of which nearly 50% are made with 18-karat pink gold details, the grade of finish being the distinctive mark of the Jules Audemars line.
Although prices vary from one model to another, we can find watches in this collection that exceed $700,000 dollars, a figure that is well worth the quality of the house of AP.
Millenary Rose Gold Collection
Since its appearance in 1995, this collection is perhaps Audemars Piguet's most creative, with nine models to its name, four of which have rose gold details in their conception.
One of the main characteristics of this sophisticated collection is that it is a watchmaking collection, but also a high-end jewelery collection, opting for white gold and pink gold, the latter, present in the Millenary Manual Winding models in its two designs. ; the Millenary Frosted Gold Opal Sphere, and the Millenary Frosted Gold Philosophique.
Regarding investment, a watch from the Millennary collection can reach USD 35,000
Classic Rose Gold Collection
Finally, the watchmaker decided to dress a very special collection with rose gold, this classic line is focused on pocket watches, an example of Audemars Piguet's long tradition of excellence.
This is perhaps one of Audemars Piguet's most detailed collections, requiring 800 hours of work to assemble, adjust and hand finish the 637 components that make up this watch.
In this case, the collection consists of two models, the Classique Saboneta in white gold, and the Classique Lépine in rose gold, two watches that are undoubtedly permanently in the eye of collectors and reach a market value of up to USD 40,000.